---
OH THE PLACES YOU'LL GO
We love houses with character, especially if the character is out of a Dr. Seuss book. Odd angles, cozy nooks, and unexpected architecture make us giddy at the thought of overcoming decorating challenges. Who says a room has to have right angles at the corners? When it comes to hanging curtains, we are always partial to using curtain tracks over rods and other drapery hardware, but there's no place where a curtain track is more superior to a rod than on a sloped ceiling. While whimsical and charming, sloped and slanted ceilings nonetheless pose decorating challenges, not the least of which is how to hang curtains on them. Ceiling-mounted curtains tracks for sloped ceilings offer a solution.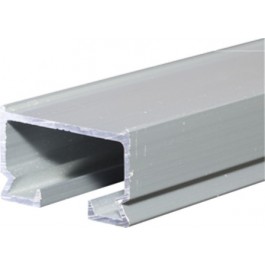 88001 Privacy Cubicle Track
HIT THE SLOPES
There are some things to consider when planning to install curtain tracks for sloped ceilings. You can, of course, install the track directly into the slope of the ceiling. You will then have to make a choice about the curtain panel – do you leave it in a rectangular shape and have the bottom hem follow the angle of the ceiling? Or do you buy a very long panel and cut it so that it fits the space provided? Either is acceptable, but both have drawbacks. Transforming your rectangular curtain into a parallelogram is easy, but will leave an opening near the floor and increase the perception that the room is off kilter. Trimming a corner of a long curtain to fit will create a dramatic look, but opening the panel becomes tricky as the longer side of the panel will pool on the floor when moved to the shorter part of the ceiling.
LEVEL WITH US
We have a suggestion. Hanging our 88001 Privacy Cubicle Track offers another option. Suspend the track to make it level. Our suspension parts, compatible with 88001, will allow you to install the track on a sloped ceiling using suspension tubing. This will be required every three to four feet until you get to the bottom of the slope. This method is similar to retail stores and lofts where there are extremely high ceilings.
Have a questions about curtain tracks for sloped ceilings? Give us a call at 888-434-7444 and we will be happy to assist you.