With some states implementing out of state travel restrictions this summer due to COVID-19, families are getting creative with their vacation plans in an effort to avoid hotels, planes, and other public places. They are purchasing RVs. In fact, in a recent Business Insider article, it stated that the RV Industry Association found that a survey revealed that 20% of US residents have become more interested in RV travel over air travel, tent camping, cruises and even rental stays. "According to a study conducted by Kampgrounds of America (KOA), which runs a series of privately owned campgrounds, 34% of prospective US and Canada-based campers say that road trips will be the safest form of travel when stay-at-home orders have been lifted. This increasing interest in road trips may also lead to 46 million Americans will take an RV trip in the next year, according to the RV Industry Association."
Not everyone is buying a brand-new RV though. Purchasing a used RV can bring just as much joy as a new one but at a lesser cost. For those who have purchased a used RV, there are ways to upgrade this new home on wheels to truly make it yours. We suggest starting with the windows. Whether you are looking to replace the windshield wraparound curtains, window curtains, divider and bunk curtains or even shower curtains, Curtain-Tracks can supply custom-sized RV curtains to fit any vehicle including recreation vehicles (RV), campers and motorhomes. We know that no two vehicles are exactly alike which is why having curtains custom made will ensure the perfect fit. Not only will your new custom curtain fit impeccably, we offer flame retardant fabrics which meet FMVSS 302 standards as well as lining materials for improved blackout and insulation purposes. So they look great, are safe and super functional!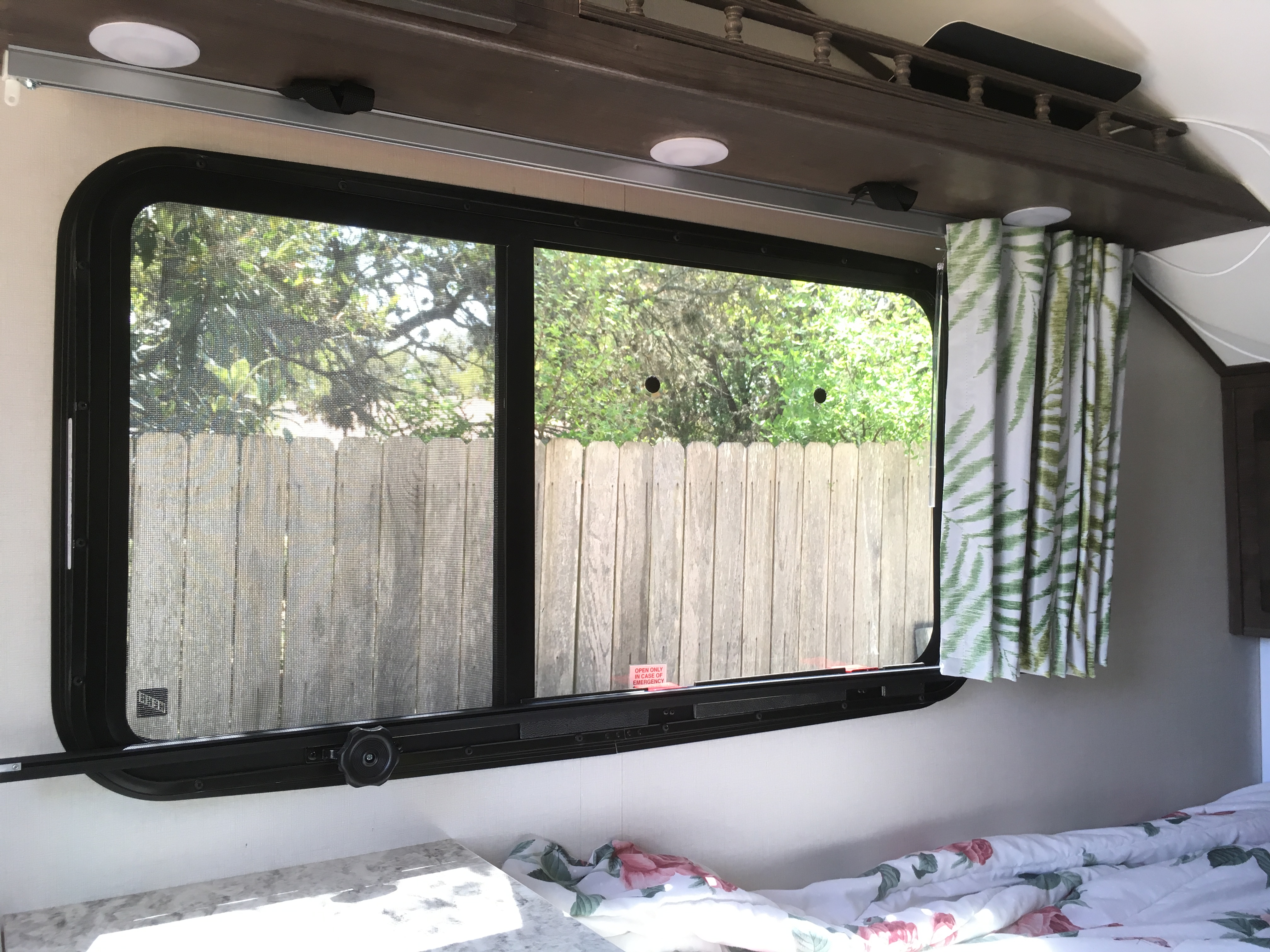 Curtains aside, you may also want to update your curtain tracks and hardware. C-T customer Lila T. recently updated her RV. She used Track 3110-4 and mounted it to the window frame with 2-sided foam tape. This track is made of PVC plastic and is flexible, non-corrosive, and rust free. She then added 3042 glides sewn to the curtain and 3032 end caps. The end result is a refreshed look to her home on the road.
If you are planning on hitting the open road in 2020 and want to update the look inside your RV, Curtain-Tracks is here to help! Contact us to learn more about custom curtains, shower curtains, curtain tracks and hardware. Have a fantastic time socially distancing in your RV but don't forget the interior updates!