Sliding glass doors and floor to ceiling glass walls provide spectacular views to residents lucky enough to live on a beach or lake, near mountains, or simply those with a beautiful backyard flower garden. We encounter customers every day asking for advice on what hardware they can use to hang curtains or draperies in these type applications. These type sliding glass doors and glass walls are common in condominiums, apartments, and high rises. Given the frequency of these discussions, we wanted to share a few thoughts on hardware selection and also share a few images to help inspire you.
---
Wall Mount Versus Ceiling Mount Curtain Tracks?
There are curtain track systems available for both wall and ceiling mount applications. If you have floor to ceiling glass walls, the decision is already made for you since wall brackets are not an option. If you have space above the windows or doors, wall mounting the track is an option. The wall mount option could be advantageous if you have very high ceilings and prefer to keep the cost of your curtains or drapes down be reducing their overall height, or in order to make opening or closing the curtains by hand easier. The ceiling mounted tracks allows you to hang floor to ceiling curtains or draperies. It is also easier to mount more than two tracks in parallel (often done with sheers, blackout curtains, and decorative side panels used in combination) since we only offer single and double wall brackets. Ultimately, the choice is yours depending on the look you are striving to achieve.
Length of Curtain Track?
Typically, the curtain track length should at least exceed the width of the window slightly. You should take into consideration the space available on each side of the window and consider how much space will be required for the open curtain to stack (stacking refers to the width of the opened curtain as it bunches on one end of the curtain track. Keep in mind that the width of the carrier limits how small the stack of the curtains or drapes can be. Because you may want to have the curtains moved away from the window entirely when the curtains are open to maximize your view, it may be worth considering adding extra length to the track to accommodate the stacking of the curtains.
Often times tracks are run wall to wall, which provides the look of a curtain wall. This can be dramatic in appearance. We would recommend that you leave enough room between the end of the track and the wall on one end that would allow you to add or remove end stops and carriers without having to take down the entire track. The curtains will typically extend beyond the end of the track and no one will be the wiser that the curtain track does not quite meet the wall.
Most of our customers purchase tracks in sections that are 8 feet or less to reduce shipping charges. Sections of tracks can be mounted end to end for wider spans. Splicers are available for some tracks, helping to align the curtain track sections to prevent carriers from catching on the seam. For curtain track systems that don't offer a splicer, care should be taken to ensure the tracks are abutting one another and aligned to maintain a continuous slot between sections. The goal is to minimize the seam. If two way draw curtains are being used, it is advantageous to place the seam in the center of the track layout so carriers never have to travel over the seam or splice.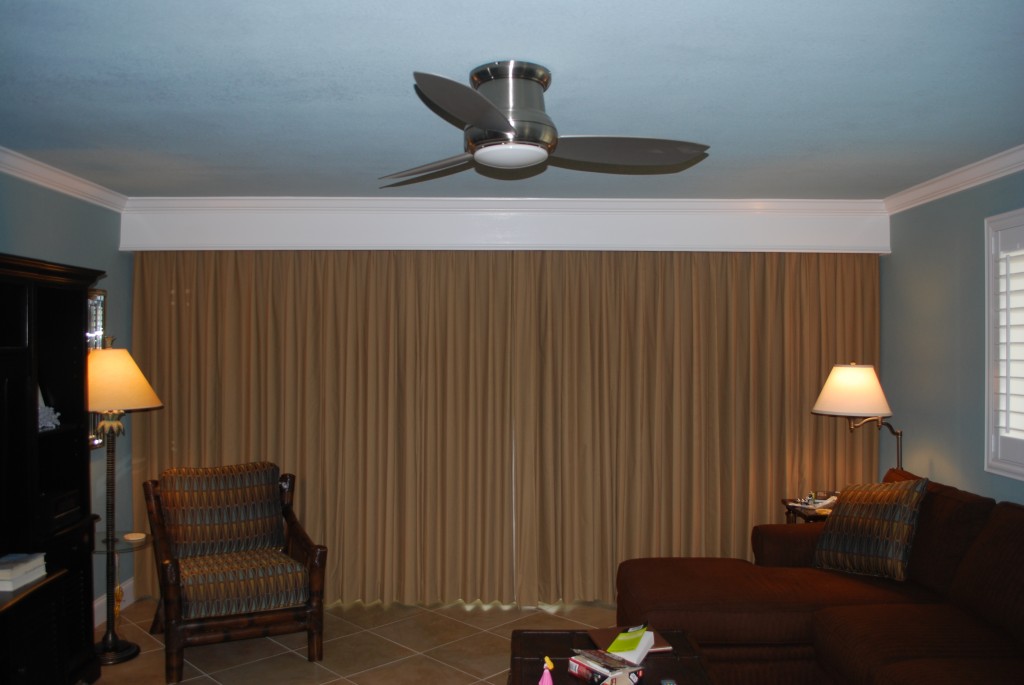 Size (Light vs. Heavy Duty) of Curtain Track?
Most people try to save money where they can, and we fully appreciate that (we do too!). However, the lowest price doesn't always provide the best value. Because there are a wide range of tracks offered on Curtain-Tracks.com ranging from light duty tracks used in boats and RVs to heavy duty tracks used in commercial and industrial applications, we sometimes see customers wanting to select tracks that are not suited for the project at hand. For large curtains or drapes used with sliding glass doors and large windows, light duty tracks are not a good choice. They will likely not hold up over time, can be difficult to open and close, and don't offer the range of accessories like master carriers that can make a big difference in the effectiveness of the curtain in providing privacy and blocking light.
For curtain and draperies being mounted across sliding glass doors and glass walls, we recommend the Ball Bearing Carrier Tracks systems (Track numbers 84003 and 84004). These architectural tracks offer terrific value as they are relatively inexpensive, operate easily, and hold up over time. The 84003 track can be either wall or ceiling mounted, while the 84004 track is used exclusively for ceiling mounts. This type hardware is found in most hotel rooms across the United States. If you don't believe us, take a peek the next time you are in a hotel for vacation of business travel.
Single Curtain Track or Double Curtain Track (or More)?
Tracks can be run in parallel to offer curtains to operate independently while affording a layered look. The combination of sheers and blackout curtains used together is very popular. By running each curtain or drapery on a separate track, they can be opened and closed separately. That way, the blackouts can be opened while leaving the sheers closed, letting the light in while still softening the look of the room. Customers also add a third or fourth layer by hanging decorative panels at each end of the window to add color or texture contrast. When running tracks in parallel, the space required for the curtains to bunch or stack should be considered, as you don't want the curtain in front to impede the movement of the curtain behind.
Carrier Selection?
Whether they are referred to as carriers, glides, slides, trolleys, or those little wheelie things, the carriers are important as the are the moving parts that allow the curtains or draperies to slide open and closed easily. There are a wide range available, and the proper selection is important. In general, the wheeled carriers move more easily than the friction carriers that slide instead of roll. You also must consider the style of curtain you are hanging. Curtains using hooks are compatible with some style carriers, while curtains with snap tape require snap carriers to provide a Ripplefold look.
Also when ordering carriers, if you don't already have the curtains or draperies, a rule of thumb to used in calculating the number of carriers you need is one carrier every four inches across the width of the curtain. Keep in mind some curtains have added fullness that means the width of the curtain is greater than the length of the track. Also note that not all carriers work with all tracks, and all hooks do not fit with all carriers. We try to group compatible products on our site and note what drapery hardware works well together.
Master Carriers and Batons/Wands?
When two curtain panels meet, it is advantageous to use master carriers on the leading edge of each curtain. These master carriers are designed to force an overlap of the side hems of the curtain or draperies. This enhances the light blocking capability of the curtains and also improves privacy. Batons or wands can also easily be attached to these master carriers. These long rods hang vertically from the master carriers and make opening and closing (drawing) the curtains easy. It also cuts down on the wear and fingerprints on the fabric panels as well. Curtain-Tracks.com offers batons in either clear acrylic or white fiberglass, available in 3, 4, or 5 ft lengths to work with most user and ceiling heights. The master carriers and batons are not required, but are typically worth the additional costs.
It should also be noted that the arms on the 84114 master carriers are reversible by simply unscrewing the screw and changing the orientation of the metal arm before re-tightening the mounting screws. They can also be used individually for single draw curtains, and don't have to be used in pairs.
[caption id="attachment_529" align="aligncenter" width="300" caption="84114-Kit Master Carrier and Baton Kit"]
Valence, Cornice, or Pelmet?
Some people prefer to hide the curtain or drapery header and drapery hardware by installing a valence, cornice or pelmet to conceal the top of the curtain. This is optional, and is dependent on the overall look that is desired. Even without the addition of these additions to your window treatments, you can typically orient the header for the curtain such that the track is practically concealed by the curtain when the curtain is closed. Curtain tracks are also subtle when mounted on the ceiling, so additional concealing may not be required.
Product Recommendations?
While many of the tracks will work, we typically point customers to the following tracks to cover sliding glass doors and glass walls:
Ceiling Mount Track 8 Feet or Less: 84004 Ceiling Mount Curtain Track Kit
Ceiling Mount Track Greater than 8 feet: 84003 Ceiling Mount Curtain Track Kits plus 84142 Splicers
Wall Mount Track 8 Feet or Less: 84003 Wall Mount Curtain Track Kit
Wall Mount Track Greater than 8 feet: 84003 Wall Mount Curtain Track Kits plus 84142 Splicers
Other viable track styles include the 3120 track, 3118 track, and 6100 Flexible Track when a track must wrap around a corner.
All the parts available in these kits can be ordered separately to customize your order to meet your specific needs. There are lots of choices and options, and we are always here to provide advice and answer any questions you may have.