---
DOCTOR TRACKS
We have helped leading hospitals and clinics all over the country outfit their examination spaces with the highest quality curtains, tracks, and drapery hardware. These are busy places in which the curtains and hardware take a beating. The curtains have to look nice and provide privacy, and the tracks and carriers have to become a seamless part of everyday work-life for doctors and nurses. The right products can even increase patient safety, and reduce the risk of spreading hospital-based infections. The unique demands of these environments require unique tracks and curtains. We have the hospital curtain tracks, drapery hardware, and curtains that these spaces demand.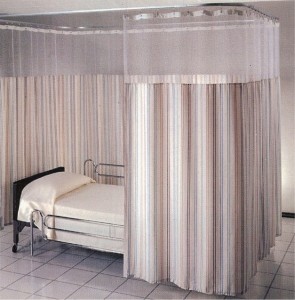 PRIVACY FIRST…
Most hospitals and clinics use our privacy cubicle curtain track. This ceiling-mounted track is available in straight and pre-bent sections so that horseshoe and other similar configurations are possible, and full privacy around exam beds can be achieved. Many hospitals and clinics plan ahead when designing the exam areas, and recess these tracks into the ceiling, allowing full floor-to-ceiling coverage and smooth movement of the carriers in the track. Combine recessed tracks with curtains available in a dozen colors, and the whole system coordinates with the décor and blends seamlessly into the environment, because, after all, no one visits the hospital to admire the color scheme.
THEN SAFETY
The curtains that hospitals use are not ones standardly found in a residence. They are Sundance fabric panels, which are treated with an antimicrobial agent that inhibits the growth of bacteria, including antibiotic resistant strains, such as MRSA. Given the rates of hospital acquired infections, no hospital or clinic can afford to use any other curtain panel. Sundance curtains are also machine-washable and flame retardant, making them useful, practical, and safe. Every panel is available in multiple pre-cut widths and heights, multiple colors, and can be paired with a coordinating mesh layer.
Need to outfit a hospital or clinic with tracks and curtains? Email your needs to us and we will get your order started: info@curtain-tracks.com.