Curtain-Tracks.com offers custom sized shower curtains in a variety of materials ranging from commercial grade vinyl to fabrics. The ceiling mounted curtain tracks that we offer are great to be used for shower curtain tracks. Because curtain tracks offer greater flexibility with both sizes and configurations than traditional shower rods, more and more customers are choosing to replace their shower rods with our track hardware. As a result, customers often need a shower curtain that is a different size than the traditional 72 in x 72 in shower curtain.
Some may need a shower curtain that is wider than normal, allowing a single curtain to wrap around a claw foot tub. Others may need a taller curtain since they are mounting their shower curtain track on the ceiling while still wanting the shower curtain to reach the tub or shower pan. Regardless of your needs, Curtain-Tracks.com is the best source to supply the curtain you need in the size that you specify at an affordable price.
Antimicrobial Sure Check Linen - Vinyl

Antimicrobial Shower Shield

Antimicrobial Shower Mist

Prime White Vinyl - 6 Gauge

Crystal Clear Vinyl - 6 Gauge
Cut Width vs Finished Width - Curtains and shower curtains will not finish at the exact width ordered.  Curtain-Tracks.com adheres to industry standards basing all curtains on CUT WIDTH.  Approximate loss can vary up to 3.5" per panel.  This is due to varying fabric widths, side hems, and panel seams.  The following chart is based on 72" fabric width.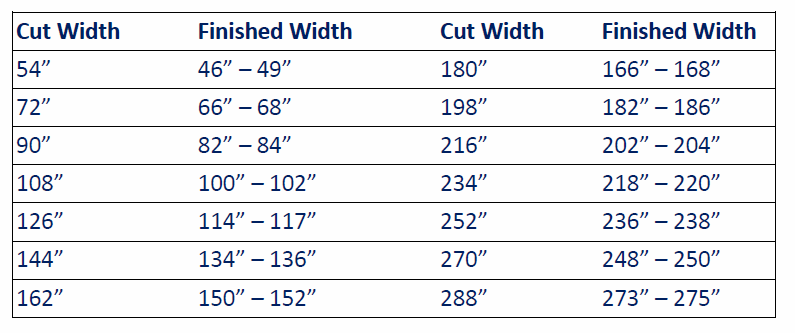 VINYL SHOWER CURTAIN SPECIFICATIONS:
1 3/8" triple thick top hem consisting of one ply of the curtain material
1 1/8" reinforcement header strip of closely woven mesh covered by a 6 gauge clear strip of vinyl
Sewn with double needle construction, 1 1/8 inch between stitching rows
Top hem has two-piece rustproof anodized aluminum grommets on 6"
centers (use of single grommet with crimped undersides is not acceptable)
Height tolerance is +/- 1inch.
Width tolerance is +/- 2 inches. (remember to add 20% width to your shower curtain beyond track length)
No bottom hem, allowing for easy run-off of soap and water
Vinyl formulated with an anti-microbial to insure maximum mildew resistance for the life of the shower curtain
FABRIC SHOWER CURTAIN SPECIFICATIONS:
1 3/8 inch triple thick top hem consisting of a double layer of curtain material
1 1/8 inch reinforcement header strip of closely woven mesh
Sewn with double needle construction, 1 1/8 inch between stitching rows.
Top hem has two-piece rustproof white HDPE grommets
Height tolerance is +/- 1inch
Width tolerance is +/- 2 inch (remember to add 20% width to your shower curtain beyond track length)
All curtains to have full length double thick turned  ½ inch side hems locking the left and right sides of the curtain from top to bottom, eliminating raw side edges
Reverse double thick turned  ½ inch bottom hem, eliminating raw bottom edge and allowing for easy run-off of soap and water
Polyester and Nylon to be treated with durable water repellent finish to make fabric water repellent and stain repellent